Sweet Sans releases.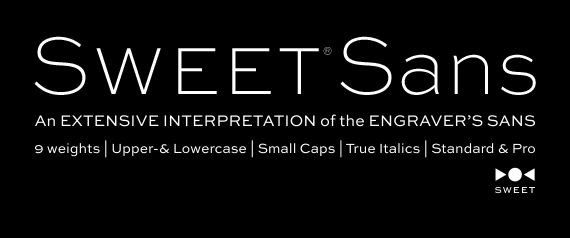 Some time ago it came to our attention that there was room for broader interpretations of traditional stationer's (engraver's) lettering styles, particularly the basic engraver's sans serif. 
This caused Mark van Bronkhorst to do a little research with the hope of finding "masterplates," or lettering patterns, once the standard technology engravers used to transfer lettering styles via pantograph device to printing plates or dies. He first contacted the engraving shops he had worked with in past, that is, those that had not gone out of business.
The engraving trade has dwindled drastically in the past 20 years and, as many longstanding closed their doors, masterplates were scrapped. Most engraving shops today use digital fonts and a photographic process to make plates, the older, tactile method of tracing from masterplates long abandoned in favor of expediency. This puts many familiar lettering styles—those not yet interpreted as metal or digital type—on the endangered list.
After some digging, a hoard of vintage masterplates was located, and Van Bronkhorst got to work producing digital fonts based on their pleasingly familiar letterforms; this marked the beginning of MVB's Sweet® collection, fonts based on stationer's lettering styles from the first half of the twentieth century.
Van Bronkhorst designed Sweet Sans in tandem with other Sweet typefaces (such as Sweet Gothic and Sweet Upright Script); now with the release of Sweet Sans, what was a handful of fonts is now the start of a true collection, one that promises to grow.
Sweet Sans offers the cap-to-small-cap combination of this lettering style made popular by stationers, and adds the lowercase style (that has long existed in lighter weights on masterplates), as well as true italics of everything. Both Pro and Standard character sets are available in nine weights from Hairline to Heavy.
A PDF Specimen showing the fonts and features can be downloaded here.
---